Choco-Late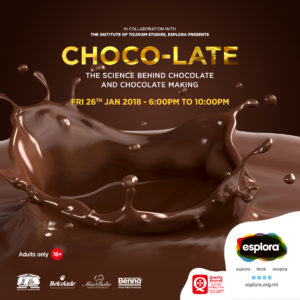 Choco-Late, the first event of a series of 'Lates' dedicated for adults only (18+) at Esplora Interactive Science Centre, Kalkara.
This event will be a unique Chocolate experience!
Join us and try out one of our hands-on workshops led by professionals in the chocolate-making industry. Practice your skills with us and take home some tips on chocolate modelling, chocolate cultivation and much more.
We welcome you to indulge yourself in some delicious chocolate cocktails and special treats throughout the night.
This event is being brought to you via a collaboration between Esplora and The Institute for Tourism Studies (ITS)
Ticket Price: Eur 10:00 (all- inclusive incl. entrance to all the main exhibition halls at Esplora)
Age group: 18+
Date: Friday 26th January 2018
Time: 18:00pm – 22:00pm
Tickets are to be purchased on the day at the door or beforehand should you wish to collect your tickets before the night of the event.