Getting the Visitors' Experience
An introspective account from a staff member turned visitor for a day. Courtesy of Claudine Muscat
Fortunately on Sunday 13th November I was able to visit Esplora with a friend of mine – it was surely a busy day at the centre! Nonetheless everyone looked energetic and focused.
The entry queue was controllable and it didn't take long for us to get into the centre. Having the duty manager present to lead you into the centre made the experience more welcoming.
We were eager to start roaming the various exhibits – even though I work at the place on a daily basis, I never had the time to explore the place in detail. The first exhibits to visit were those related to the themes of eco life, motion, electricity, and optics. We spent an hour and a half to roam around these exhibits, and this was not even ample time to try out everything on the exhibition floor.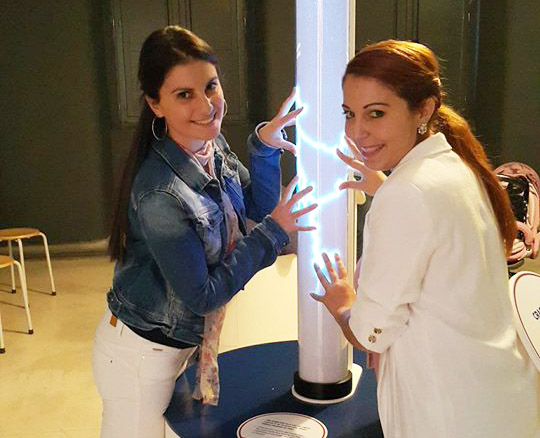 Sometimes there was a need to wait for our turn on an exhibit– but that's expected on such a busy day! Unfortunately we had to miss trying out some exhibits as they were sooo popular, therefore we had to skip those exhibits this time round (such as the earthquake exhibit which is so engaging). We further proceeded to the optics section which is a dark immersive space. It was fun, especially when you get to see the different images shown on the mirrors. We laughed and took some photos too ☺. Children and adults alike were enjoying the photographic film room. Some exhibits were experiencing some technical problems but most were resolved by the staff on floor when alerted to the troubles.
The din of people having fun was so loud in certain areas that you had to pay special attentions to the PA announcements in order not to miss the science show and workshop slots.
It was then time to proceed to the science show. Indeed I confirmed that we're correct when we state that one day at the centre is not enough to get the full experience. In fact once we realised the show was about to start, we got a sense of panic knowing we had more to see. The science show was fun and the audience participated well. Both adults and children reacted well to the various demonstrations. However adults are still holding back to participate: they rely on kids to give answers or to volunteer. It would be nice if we encourage more adult participation.
After the show we roamed around the other exhibits and then stopped for a while at the cafeteria. The EsploraCafe staff were very welcoming and we were served efficiently. The tables and chairs were also clean. From there we visited the last exhibits at the mezzanine and we left the place only a few minutes before closing. Even though I roamed around the whole place, I still felt that there was more to see and therefore must visit Esplora again soon.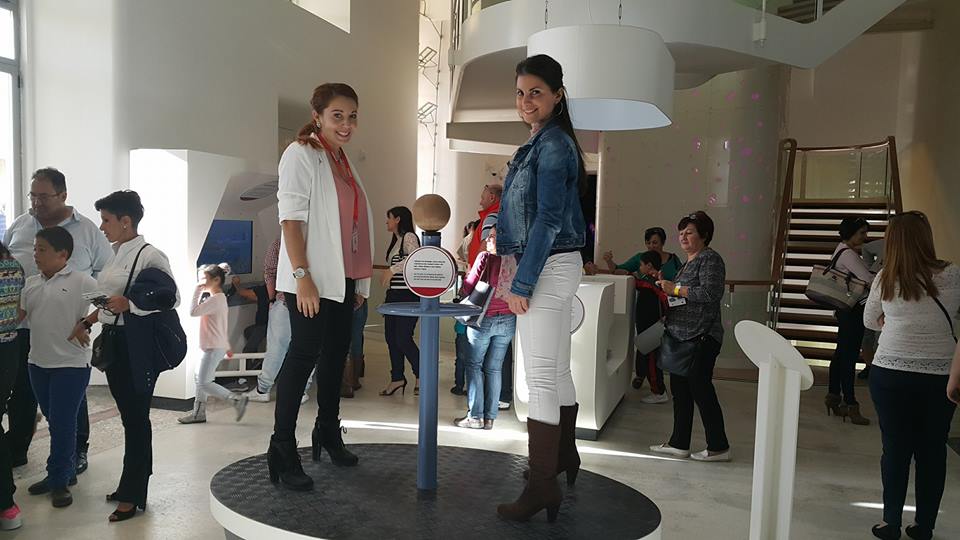 Even though I wanted to get the visitors' experience, I still chose to wear the Esplora tag on my visitor day – that way I was able to intervene or assist accordingly. People appreciated any help that was given so I highly suggest that whoever visits the place out of office hours must wear the tag and be ready to help ☺!
On a final note, the red tops that signify Esplora staff made the Explainers and Presenters recognizable to all. My day at Esplora time at the centre flew by, proving how enjoyable it was! Well done to everyone for all the efforts and hard work.
Proud to be an Esplor-ist ☺