Esplora Goes Halloween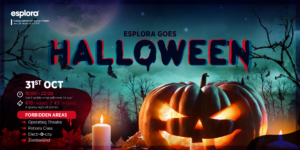 Join us this Halloween as we add a touch of spookiness and eeriness to our science centre. Esplora will open in the evening for this one-evening special event and you can experience science in such a different yet interesting way.
Included in the ticket, one will have access to 4 Forbidden Areas;
The Potion's Class
The Operating Theatre
Electr-O-city
Zombieland
Visitors who visit these forbidden areas will meet four different spooky characters who will be giving a special show for this night only! Each of these Characters will be eagerly waiting to share their story with you and show you what they are capable of.
Trick or treating will definitely be included as kids who'll bring their treats' bag with them will be given some goodies for each activity that they will visit. Our Esplora Café will be serving Halloween-themed snacks as well for a full and complete Halloween experience.
So what are you waiting for? Experience Halloween with a spooky touch of Science on Tuesday 31st October from 6pm till 10pm. We got you covered for an evening full of fun and spookiness!
Tickets
Adults: €10
Kids: €5 (under 12)
Kids under 4 years enter for FREE!
Click here to buy tickets.